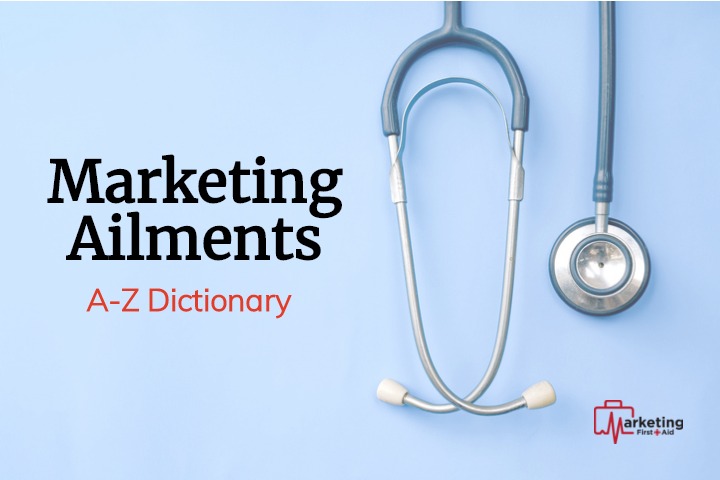 Marketing Ailments & Adverse Health Conditions – A to Z Dictionary
Do you know what's plaguing your smaller business's growth? If you don't, your business may be suffering from a marketing ailment. Find out what may be hurting your sales and impeding your growth by exploring this informative, A to Z Dictionary of marketing ailments and adverse health conditions.
The Only Comprehensive Dictionary of Marketing Ailments for Small Business
No matter what challenging problem or ailment your smaller business is facing, you'll find well defined and researched answers here that help you to diagnose your marketing dilemma and explore available treatment options.
Click on any letter from A to Z to explore related marketing ailments, symptoms, causes, risk factors and recommended treatment options.
A
B
C
D
E
F
G
H
I
J
K
L
M
N
O
P
Q
R
S
T
U
V
W
X
Y
Z
Banner Blindness (see Marketing Blindness)
Blog Jaundice
Bruised Branding
Comatose Communications
Content Marketing Concussion
Cloned Marketing
Crippled Copy
Cringe-worthy Clickbait
Chronic Customer Complaints
D.E.A.D. Marketing Tactics
Doubt Gout (see Analysis Paralysis)
Deficient Marketing Research
Excruciating Email
Event Marketing Panic Attack
Funnel Failure
Fractured Foundational Marketing
Groggy Marketing Goals
Hammering Hard-sell Headaches (see Toxic Sales Practices)
Hot & Cold Flashes (see Knee-jerk Marketing)
Hurting Hashtags
Impaired Marketing Vision
Integrated Marketing Injuries
Irritating Infographics Disorder
Jaded Junk Mail
Jarring Jargon
Keyword Calamities
Knee-jerk Marketing
Lame Business Cards
Languishing Lead Generation
Marketing Blindness
Marketing Hot Flashes (see Knee-jerk Marketing)
Marketing Myopia
Marketing Scrapes
Nauseating Newsletters
Networking Nightmares
Obsessive Analytics Disorder
Offer Obstruction
Oppressive Opt-in Disorder
Painful PR
Paralyzing Promotional Marketing
Plaguing Postcard Marketing
Planning Deficiencies
Punctured Profitability
Punishing Press Releases
Quack Marketer
Rash Decision Making
Reactive Customer Service
Regurgitated Research
Reputation Ruptures
Sales Cuts
Severed Social Media
Sickly Sales
Splintered Strategy
Staggered Business Growth
Stinging Customer Reviews
Tactical Tear
Targeting Trauma
Torturous Telemarketing
Trade Show Tragedies
Upsetting Upselling Syndrome
Video Shooting Pains
Wounded Website
Xerostomic Brand Voice
Yawn-worthy Marketing Collateral (see Comatose Communications)
Yell and Sell Tactics (see Toxic Sales Practices)
Yellow Blog Fever (see Blog Jaundice)
Zero-sum Referral Marketing (see Referral Ruptures)
The A to Z Dictionary of Marketing Ailments was last updated: August 14, 2018